THE 4 Cs OF DIAMOND CLASSIFICATION

THE ENCHANTMENT SURROUNDING DIAMONDS ENGAGES EVERYONE IN A DIFFERENT WAY. HOWEVER, WHEN ASSESSING THE VALUE OF A STONE, EVERYONE REFERS TO THE FOUR Cs, AS EXPLAINED BY THE GEMOLOGICAL INSTITUTE OF AMERICA (GIA): CUT, CARAT, COLOR, AND CLARITY.
WHEN THE

DIAMOND SHOWS

ITS TRUE COLORS
Color refers to the hue of a diamond. Slightly colored stones are most common in nature. Among the most coveted diamonds are those classified as colorless. These diamonds allow white light to effortlessly pass through, thus generating the fascinating rainbow effect. The color grade of a stone, from D (colorless) to Z (light yellow or brown), is determined by a comparison to "master stones". Natural, colored diamonds – such as yellow, pink, or blue – are among the rarest and, thus, most valuable stones.
WHEN THE
STONE'S PURITY
SHINES THROUGH
Diamonds were formed under extreme pressure and high temperatures millions of years ago, deep within the earth. This process often caused inclusions, such as embedded minerals, which impact the purity of the stones. These impurities impede the flow of light and diminish the clarity. Absolutely flawless diamonds are very rare. Only diamonds whose inclusions cannot be seen under 10x magnification are considered to be flawless.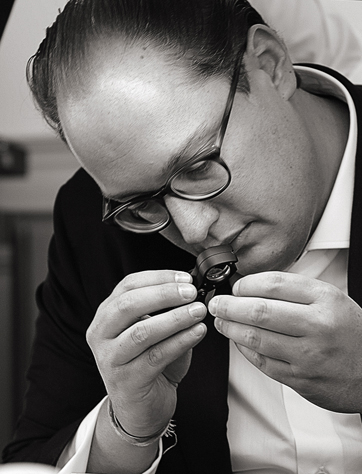 WHEN FIRE COMES
INTO THE LIGHT
Cut refers to the actual cutting of a diamond – this process gives the stone its sparkle and brilliance. With a perfectly cut diamond, there is a dazzling interplay between the stone and light, producing optimal reflection of light and awakening the fire within. The quality of a cut depends on numerous criteria, such as number, distribution, arrangement, and precision of the facets, angles, and the polishing. The GIA Diamond Cut Grading System assigns one of five grades, ranging from excellent to poor.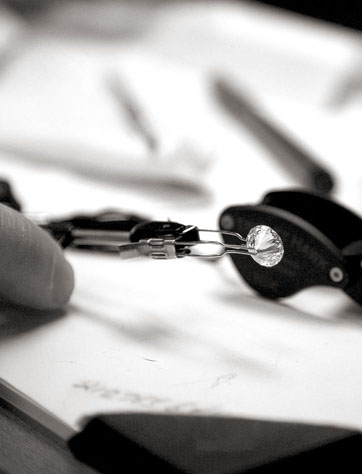 WHEN BRILLIANCE
CARRIES WEIGHT
Carat is associated with the weight of a diamond. One carat weighs 0.2 grams. The heavier a stone, the more carats it has and, therefore, the more valuable it is. As a rule of thumb, a 0.005 ct Round Brilliant Cut diamond will have an approximate diameter of 1 mm, and a 5 ct a diameter of around 11 mm. The Cullinan, one of the largest diamonds ever found, weighed 3106.70 ct, before being split up into 105 stones.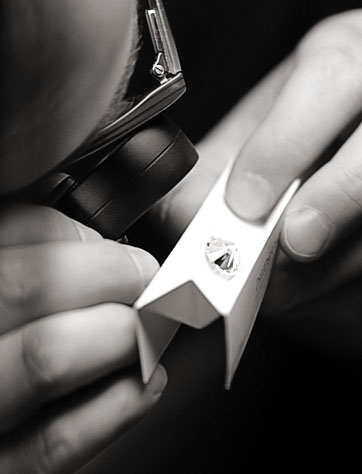 previous
next